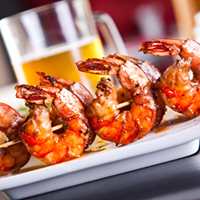 Ah, the holidays. When families get together, people indulge in food and wine, and restaurants are happy to be their hosts. As you prepare your restaurant for what may be your busiest 6 weeks of the year, here are 4 major food cost trends you should know about.
When talking about wine, Christmas and New Year's Eve are the two biggest holidays for wine sales in the United States, accounting for 69 percent more dollar sales than the average two-week period in 2016, ringing up more than $1 billion in sales in that two-week period alone.
In the two weeks between Christmas and New Year's, sparkling wine takes the cake with sales surging more than 272 percent, the Insight states. Table wine sales jumped 47 percent during that same timeframe with red wine outpacing white wine, it adds. Learn more at this nz wine club.
Although wine is the alcohol drink of choice for many, the spirits category also benefits from the holiday season. Spirits sales reached nearly $964 million in the two-week time period between Christmas and New Year's Eve, marking a 79 percent increase,